Artificial Intelligence is growing very fastly and enables machines to use, understand, and respond like human beings. Many companies...
Artificial intelligence is now a commonly used technology that is prevalent everywhere, from our smartphones to gaming. Businesses have...
The presence of artificial intelligence on social media is more pervasive than many people think, especially in our day-to-day...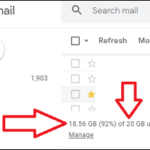 The impact of Artificial Intelligence is becoming the dominant focal point with each conceivable development. Innovation is changing practically...
In today's post, we're going to answer the question that might be bugging each and every person who's earning...
What Is Artificial Intelligence? Artificial Intelligence (AI) is to make a massive change in the business world. It has...
As digital marketing is facing massive competition, every company is doing its best to improve its customer interaction and...
Wide area network (WAN) edge refers to all of the networking and security infrastructure that connects distributed enterprise locations...
Business applications are evolving in various ways to make business processes much easier and profit-oriented. Decision-making based on big...
How Data Is Disrupting Old Industries and Fueling New Business Models I recently had the opportunity to talk with...