E-commerce is one of the fastest-growing industries that exploit all advantages of the digital world. Social media play a...
Digital marketing (also known as 'internet marketing') is taking a central sector of our day-to-day living. As the world...
Firstly, I want to reiterate the fact that Email marketing isn't dead (no matter what that tech guy says...
A blog is an excellent tool. They can be used for promoting products or services. But blogging is very...
Do you want to expand your reach, boost your profits, and take your business to a new level? If...
There are some modern workplace trends taking place around us that we must pay attention to today because they'll...
Email marketing is one of the most popular and effective means that can help you promote new products, increase...
There's no denying the fact that this is the age of the smartphone, and it's easy to accept the...
Did you know that almost 85% of U.S. consumers use social media? There's no wonder why so many brands...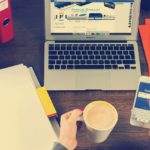 How has marketing evolved over time? It's safe to say that content marketing strategies have reached a crossroads and...