In recent years, Pay-per-click advertising (Facebook Ads) is leveraging the business world. These Ads help to catch up with...
Many SMM specialists, e-commerce, and marketing experts emphasize the importance of proper brand and company presentations in social media....
Ordered the text to a good copywriter? This is only half the battle - the finished material needs to...
Do you know just like every other thing, even the world of search engine optimization is constantly changing? A...
You can have thousands of unique site visitors every day and still not convert those customers into sales. This...
Blogging was long seen as an equivalent of an online diary. Nowadays, this reputation has turned itself around. Blogging...
During the last few years, there has been an interest among established bloggers in anonymous blogging so that the...
Many bloggers make their videos on YouTube. Through this, the blogger can help others as well as earn a...
Running a successful blog can be difficult, we agree. However, blogging is definitely something that can give your innovative...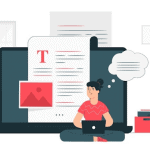 Being a great blogger sounds like the easiest thing in the world, but you need to invest a lot...