Gone are the days when a business's phone system was limited only to landline networks. Today, with the help...
Owning a business in the present digital world is not a big deal. Today, many are capable enough to...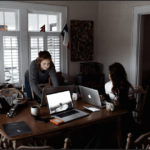 When society progresses more and quicker into a booming technological period, so do our corporate practices. Point of sale systems...
We are living in uncertain times. The world is changing, and the digital landscape is no exception. We're at...
Retail is an industry in which you have to combine several different factors in order to make it. First,...
Nowadays, most companies focus on having a global presence. Due to advanced technology and a more interconnected world, it...
Designers! Are You Limiting Your Growth Due to These UX Designing Mistakes? Are you confident about your UX designing...
Business owners have many goals when they're just starting out, including recognition and rapid growth for their venture. However,...
There are lots of aspects to running a business and lots of ways a business owner can help local...
In today's world, with a vast amount of opportunities at your disposal and technology that's ready to make those...