You must have often heard the legal terms like "inc", "co.", "ltd". These are the abbreviations of terms like...

Organizations today are transforming their learning and development programs to the eLearning domain. But, choosing the most suitable e-learning...

Your business has not been growing like you expected! It seems like the whole idea of starting a business...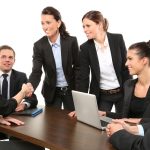 The journey to success has many hurdles in its way. However, that doesn't mean there is nothing you can...

Every month, 540,000 people in the US start their new business to realize their dream of being their own...

Startup initiations can be a tedious process with planning, organizing, managing and waiting, but it's all worth it in...