In this competitive market, it is fundamental for each business to have an adaptable, secure, and adaptable web app...
Low-code, what is it? Low-code technology is an approach in software application development that allows faster delivery of apps...
The world of mobile app development is witnessing enormous growth in technological aspects and cutting-edge technologies. Modern framework technologies...
Front-end web developer uses multiple coding and Scripting languages to execute web design projects. If you see any website,...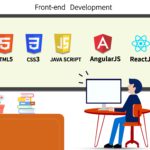 Do you randomly receive the error message of SQLite Error Code 11? And don't know the way out. Then,...
A lot of developers using Python frameworks to build programming and develop software. The architecture provides to our developers...
First of all, let's face it — no one cares. We are living in the real world, with real...
Each day we learn new things, gaining new knowledge and skills in web designing. The journey of knowledge never...
The process of PSD to HTML conversion is a time-intensive process, which needs skills for technical coding on the...
Compared to letting drivers figure out where and how to park their vehicles, parking software helps commercial and residential...