eCommerce is a swiftly expanding industry. Annually it takes a bigger share of the retail market than the last....
Do you want to build an appealing online store? If yes, then you have hit the best spot. Setting...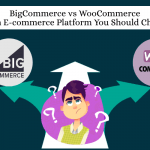 Running a PPC campaign may seem to be overwhelming at the beginning. Still, in reality, there are some affordable...
Clients go through 5 stages while making purchases. It is worth to analyze them all in order to create...
Getting succeeded with an e-Commerce store is challenging as the competition is too high to beat comfortably. Don't lose...
If you have attended any digital marketing or eCommerce conference, then you understand that artificial intelligence is likely the...
Did you know that 51% of companies are using eCommerce automation at the moment? And the technique is planned...
Worldwide webmasters continue their search for top-notch platforms to host their websites. Generally speaking, when we discuss e-commerce websites,...
Digital Marketing has set its benchmark in the business realm and proven its necessity in order to sustain in...
E-commerce is one of the fastest-growing industries that exploit all advantages of the digital world. Social media play a...