One of the most common trends in education these days is the focus on global cooperation and dealing with...
Writing a persuasive essay on an educational topic is an essential skill for any student or academic to possess....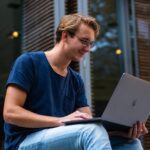 According to stats, the eLearning market is expected to hit $325 Billion in 2025. Moreover, mobile learning is anticipated...
Are you an avid book reader? If yes, then you must have been aware of the pain of carrying...
In the golden age of technology, thanks to the internet, upskill yourself is much easier now than it ever...
Due to the corona pandemic situation, schools are closed but, the learning process should never end. One should keep...
The rapid pace at which technology is evolving has enabled educational institutions to start implementing Internet of Things (IoT)...
The popularity of eLearning is growing at an astonishing rate. During the Coronavirus pandemic, it has become the safest...
Almost every type of industries now is depending on digital marketing to promote and advertise their new goods and...