You know that old saying about a plane taking off from California to Hawaii being off course 99% of the time — but constantly correcting? The same is true of successful startups — except they may start out heading toward Alaska." ~ Evan Williams
It is the same story that repeats every time. Initially, teams come up with ideas to begin a startup. Further, they put time and money into the MVP process and decide which features to include and leave out of the MVP. Ultimately, after the MVP launch, the startup moves with a stable and mature product when everything works as planned.
Then what goes wrong with this fairy-tale success story? In reality, over 90% of them fail.
So what leads startups to fail?
Because they fail to recognize MVP as not only a product to work and finish within 2-3 months and launch; instead, a more precise amount of effort and work goes into the process after the MVP launch as well. After launching the MVP, it doesn't end there; rather, the list goes on. MVP development is a repetitive process and continues until a robust product has found its best fit market.
Here's the to-do list to follow:
Collect Feedback
Until the MVP launch, the MVP was built based on essential features for the user's mind. As soon as the product launches into the market, it's open for feedback- which is better advice to follow- what the potential customers have to say after using the MVP.
After the MVP launches into the market, collect these actual data and determine whether and why customers are using your product and why not!
Tracking user behaviors is vital for engine growth; businesses can measure and learn from user interactions and decide which features to improve, add, or delete. Use the data to analyze what it is that would make your product more commercial and successful.
Don't be discouraged by the negative feedback from the customers. Don't hesitate to go back to square one, if needed, because most startups do it multiple times.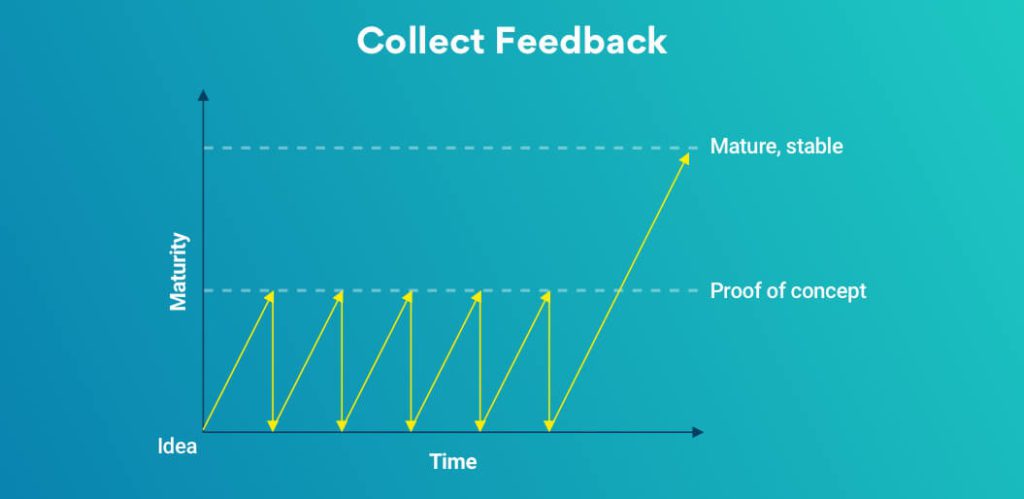 Prepare to Scale
Startups worry more about examining their assumptions, validating the same in the market, and gaining tremendous traction. The Salability factor becomes a later stage concern.
The world of startups believes a vital aspect of technical stability can be avoided. Startups are more burdened about testing their assumptions and validating them in the market to cater to huge tractions. At the same time, Scalability comes to be a later stage concern.
This blind belief has unfortunately led some startups to fail miserably. A home-service startup, 'TaskBob,' which had raised around $5.7 million in funding in 2014, had to shut down in 2017 as it could not scale up and generate profits. Thus always be optimistic of standing a chance of the MVP, as there's always a standing chance of the MVP catching up quickly and sign-ups start rolling in.
Thus hosting your product in a fully scalable platform for plenty of new users is vital. For example, Dropbox chose not to launch an MVP product. Instead, they came up with a simple explainer video about what the product does.
This video generated 5000 to 75000 beta signups overnight. But the question lies in whether they were ready to handle these vast numbers.
The head of server engineering at Dropbox, Rajiv Eranki explained that the Dropbox team used Python for virtually everything in a RAMP Conference presentation. This means that the whole platform "could get to 40 million users writing thousands of lines of C code." The use of Python allowed the Dropbox team to scale quickly and cater to the needs of potential customers. Thus, Dropbox made a planned move by launching its MVP with complete preparation to digest the success with an ideal dose of Scalability.
Set the right Pricing
Eventually, they analyzed the product demand and found an optimal monetization approach. Deciding the pricing quotient is usually kept at the backset during the MVP development or the launch; the general notion for this is the thought process of whether the product is not ready yet.
The argument provided is- how can you charge for a 'minimal.' product?
However, what is vital to understand is whether the product is still in the MVP stage and the top pain points of the customers are already addressed, and the customer development process is done, then you are ready to go ahead on the success journey.
For example- Buffer recognized this winning strategy. Initially, they analyzed the product demand with a basic MVP (a landing page) within the potential consumers. After the landing page started catering to more traffic, they added more pages carrying the pricing plans for their signup process. Eventually, the company analyzed the product demand and also found an optimal monetization approach.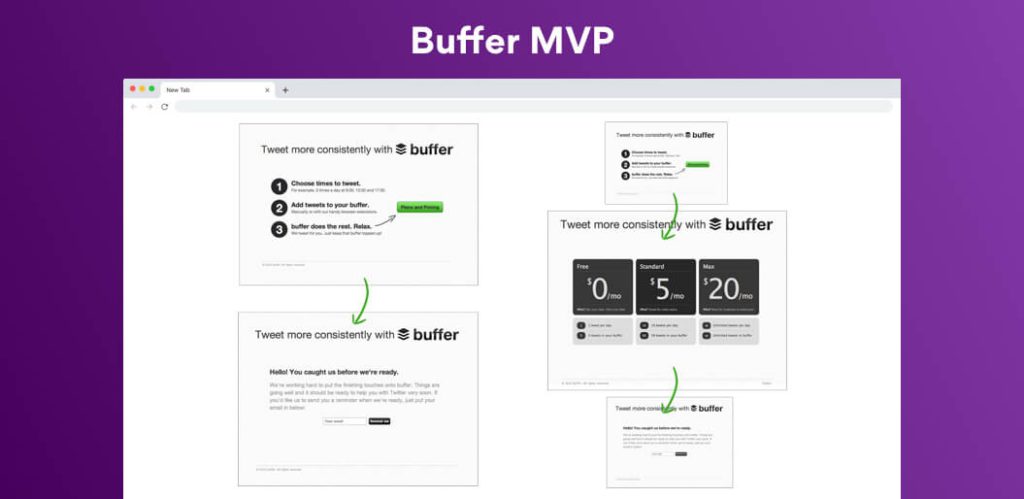 Don't Shy Away from Marketing
As we read earlier, MVP is an early-stage product development package. Nevertheless, businesses should get ahead with their marketing strategies to let the world know that their product is finally live. It is advised to get started with the product promotion as soon as the MVP launches in the market. However, marketing the MVP and marketing the final product is different.
"Mint," a personal finance app, is a perfect example of how they utilized an ideal marketing medium right from their MVP launch to future success. The founder of the Mint app, Aaron Patzer, came with an excellent marketing strategy. He came up with "Whatever we can do, basically, for cheap or for free." Content marketing was the way to achieve this the right path for them. They initiated a personal finance blog to build their audience for Mint.
And as a result, the app hit a milestone of 1,000,000 users in just a couple of years since the launch. By simply putting an email subscription form at the end of each article, led the startup to accrue around 20,000-30,000 emails from potential customers in only nine months while the app was still in the development phase.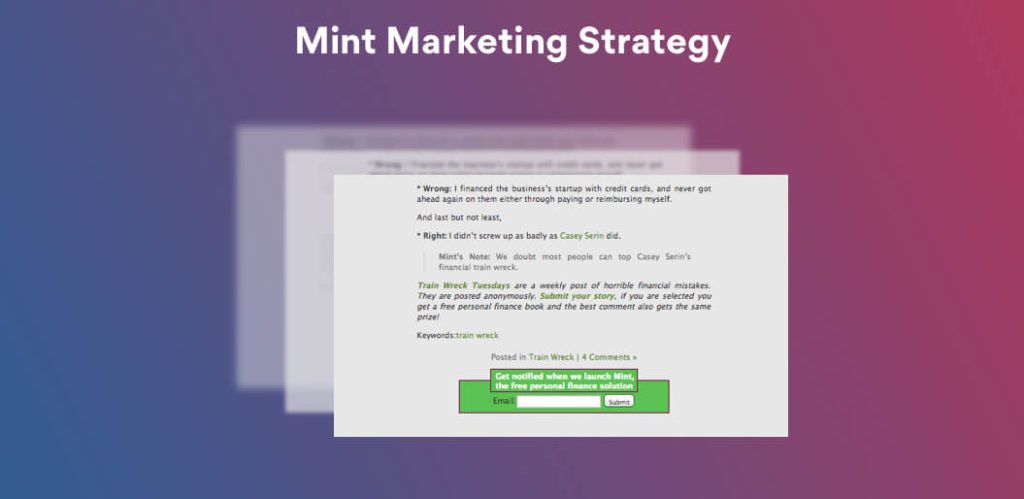 A Journey from MVP Development to Product Development — Final Thoughts
While there are enough pitfalls to avoid when building your MVP, even more, will be waiting for you once you launch your MVP in the market.
However, after following all the points mentioned above, you will get to know whether or not your idea has a spark; if it is possible to move forward from MVP development to product development. Remember to be unemotional and pragmatic about the results. If you didn't get the desired results, don't throw the baby out with the bathwater. You might be just a few tweaks away from success.
Suggested:
How To Develop Your Own Startup IoT MVP?
How to Build Communication App?
10 Crucial Rules For Building Successful On-Demand Applications.