Every online services company is looking for innovative ideas to attract more customers. The goal is to generate new...
If you ever wonder what the professional web designers do that you do not then you will see that...
Lately, there has been a shift towards user-centricity across many business spectrums. Today, a magnificent design is required to...
Websites are powerful platforms that are used by organizations and companies to reach out to the masses and spread...
Every year graphic designs keep getting better and more complex. To maneuver through this jungle of the ever-changing jungle...
In today's advanced hi-tech design environment, specialization is the norm. As a result, you will often be collaborating with...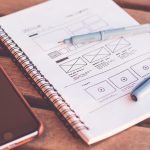 Best graphic designers' jobs turned out to be increasingly muddled with the customers getting to be choosier, and the...
The process of PSD to HTML conversion is a time-intensive process, which needs skills for technical coding on the...
Logo indeed is the easiest way to promote your company, and it is something by which a company is...
Nowadays, a website can do one of the two things for you – make or break the goals of...