When you're an aspiring graphic designer, it's easy to fall into traps. Those traps could cost you years working...
Have you been looking for a way to get your client's websites done faster? A White Label Webflow Agency...
Are you looking for a way to reach some potential customers for your business? Email marketing can be a...
Most of the time, both large and small scale businesses need to hire a website designing company in order...
Most organizations and suppliers currently sell an interface, yet why? It couldn't be any more obvious, Mobile phone applications...
Every business needs a website nowadays. It's a fact. Because you should be present online. Your offers must be...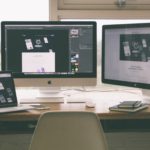 Imagine how effective it would be if communications taking place in organizations were as stimulating as a cup of...
Fonts have become a staple element and key component in many applications, including graphic design and data visualizations. Creating...
Dear Employee, 'Be who you are' -by Boss
Want to learn how to colorize your old picture without using Photoshop? Read this post and you will find...