The Corona pandemic has affected every sort of market and business in one or another way around the globe....
One of the most wanted aims of the people in this world is to get themselves integrated with the...
If there's one cardinal rule that you simply can't avoid in today's digital marketplace, it's the need to integrate...
If you are an eCommerce store owner, your ultimate goal is to perform better than your competitor and rank...
Digital platforms and products are maturing at compounded rates. New algorithms, UI makeovers, cross-platform policies, enhanced features, and a...
Online shopping fraud is on the rise. As the COVID-19 pandemic has decreased the footfall to brick-and-mortar stores, shoppers...
Everyone knows that selecting the perfect e-commerce platform has been important for any of your online business, which is...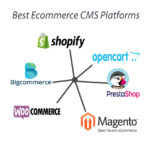 Every successful business needs such an essential thing as strong customer relationships. When it comes down to running a...
In today's digital era, it's crucial for businesses to market their products and services online. Customers usually live hectic...
eCommerce is a swiftly expanding industry. Annually it takes a bigger share of the retail market than the last....