Due to the increasing craze among gamers in the context of gaming activities, there is a very huge demand...
Are you one of those ardent gamers that are always on a hunt for the adventurous games that can...
Starting a novel indie game development studio isn't a simple task. The most reason for this is often the...
Game development has always been a very interactive platform to try out new opportunities. And considering how all the...
EatMe.io is the latest talk in the gaming industry. Being a game that has received a huge reception before...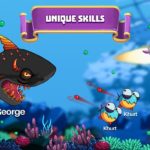 Online gaming is one of the best things which trends always. People spend more time online, and even many...