One of the most common trends in education these days is the focus on global cooperation and dealing with...
The technological intervention has certainly opened a gateway to growth for organizations. It has increased their productivity and enabled...
Artificial intelligence and Machine learning are contributing to building futuristic technologies. Smartphones are becoming smarter with the integration of...
A business coach is a professional who provides guidance, advice, and expertise in the field of business. A coach...
If you're looking to get into coding – whether you're an experienced web developer looking to make the jump,...
Many people consider math one of the hardest subjects in school, and yet, mastery of math can help you...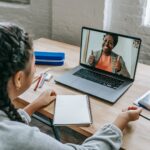 Writing tasks can be extremely challenging to complete. You might have explored how to make assignments for school to...
eLearning is taking a special place and replacing the conventional method of learning. Earlier, you used to attend classes...
The university entrance test is a test that tends to scare and put pressure on students. It is a...