Running a blog is a great way to tell the world about yourself. If you approach it responsibly, you...
Developers using hybrid frameworks have been a recent trend, this is especially true in reaching more users in different...
There are no two opinions that both WordPress and HubSpot are the best CMS, but widely different platforms that...
WordPress is a Content Management System that helps you create a website from scratch without the need for specialized...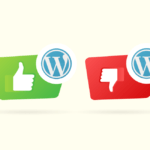 Magento is a synonym for success and why not? Magento is one of the leading CMS platforms to build...
Undeniably, WordPress is the most powerful content management system (CMS) tool currently. Most of the people are using it...
If you want to change the WordPress template on a live website but don't know the proper method to do...
When the race to be online started among the businesses, the race started among the tools' developers to make...
In the age of the mobile app, you cannot ignore the website for your business. Despite being an app...
WordPress is a free, open-source software to curate websites, blogs, applications, and enterprise portals. It focuses on performance, security,...