When have you dialed the customer support number last time? Do you remember such words like Hello, how are...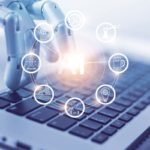 If you are new in the field of business then most probably you are looking for the marketing of...
E-learning is one of the most trustworthy platforms when it comes to learning. Ed-tech's like Vedantu are always dedicated...

There has been an escalating demand for websites to ensure that brands have their foothold in the virtual space....

"Content is King" is an old saying but is still very relevant today and will remain so for a...

Being a great blogger sounds like the easiest thing in the world, but you need to invest a lot...

When a brand is established, it does most of the work of retaining old customers and also getting new...

To combat viruses, malware, malicious sites we download and install an antivirus solution. Moreover, we also purchase its pro...

The last few years have been truly groundbreaking in terms of technological innovations. If these breakthroughs have taught us...

The current crisis caused by the Coronavirus has made life a little difficult for people all over the world....