Once Instagram was a platform where users could post photos of their pets and expensive coffees. However, Instagram has...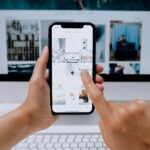 Core Web Vitals is one of Google's new criteria for evaluating and ranking websites, which was introduced in 2020....
SEO, or search engine optimization, is one of the most important aspects of digital marketing for industrial companies. When...
Whenever writing content, a lot of conditions are considered. Your content strategy decides the rate of traffic on your...
"Why is my business ranking behind others?" Answering this question demands in-depth analysis, primarily because of the dynamics involved....
If you want your blog to rank well in search, you have to be sure to keep your blog...
Search Engine Optimization is an essential marketing tool to survive in the business world. SEO methods change every year,...
Link building is an SEO technique to increase your ranking. Backlinks are important in determining which websites rank for...
Over the past decade, SEO has been one of the major factors to drive traffic to a website. With...
It is impossible to have a website without encountering technical difficulties, as numerous issues arise from time to time,...