Starting an eCommerce business can be a bit tricky. But, keeping your customers engaged in your store is harder....
Despite powering 22% of the top 1 million eCommerce sites, there has been concern and confusion when thinking of...
The current market scenario indicates an increase in demand for grocery delivery services motivating the entrepreneurs to shift their...
E-commerce helps purchase and sell labor and products on the Internet with they offer an ideal e-commerce works within...
Today the most booming industry is the e-commerce business and growing by leaps and bounds. Shopping online used to...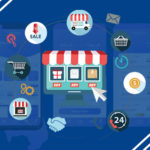 Ray Tomlinson would never have thought that his simple communication tool would earn fortunes for the businesses. With the...
Undoubtedly, the impact of coronavirus has upended every other industry. Whether we talk about marketing goals or corporate events,...
If you are an eCommerce store owner, your ultimate goal is to perform better than your competitor and rank...
Digital platforms and products are maturing at compounded rates. New algorithms, UI makeovers, cross-platform policies, enhanced features, and a...
Ever wondered why people virtually hop straight into Amazon when they need a product without caring about the many...