Social media channels are now the most powerful means of communication. Billions of people actively use them. According to...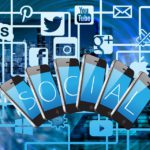 Pinterest can be a great social media platform that can help you grow your business. Pinterest allows you to...
Digital advertising is the trend of the day. New trends in online advertising have taken advertising to a higher...
Social media is the king in this digital day and age. Whether you are running a large corporation or...
Who doesn't want to promote his/her business online? If you are looking for some great ideas on how to...
In today's digitalized world, a strong social media presence plays an important role in online business growth. With so...
If you are into the marketing world, you might have already known that brands and businesses are promoting themselves...
Over the past few years, we've seen almost every brand, no matter the industry, take to social media for...
Empires are being created on the sands of massive data. The expansion of smart gadgets and therefore the Internet...
Facebook is an app used to get as many clicks on the posts that users tend to upload in...