Online data room services are soaring in popularity and for a good reason. Data room software has revolutionized the...
People have been inventing things since time immemorial. From bicycles, cars, planes, rockets, medical equipment, telephones, you name it....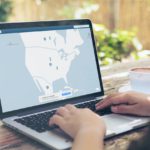 Augmented Reality and Blockchain have both made their way into the public consciousness in recent years, but they've yet...
In a way, the internet is still a wild place, even though it may look safe. We don't usually...
The entire globe is in the middle of the pandemic, which brought huge changes in every field of our...
In this corona pandemic, every company's workplace, and educational institution are finding other platforms to organize a virtual conference...
How modern technology and "online form" will available to life, and how enterprises can accept to latest forms of...
Since the world has been thrown into disarray courtesy of the recent COVID-19 pandemic, businesses around the world have...
Virtualization transformation is proving to be a developer's best friend. They are not just consolidating servers but also becoming...