A brief Description of Hostgator
HostGator is one of the largest and most recognized web-hosting brands in the whole world.
It is the world's leading e-commerce provider of web hosting. The inception of the company was in 2002 and was privately owned and based is in Houston, Texas and it is founded by Brent Oxley. Hostgator currently has their head office in Austin, Texas and also it is working in India with its office in Nasik (Maharashtra). At present, Hostgator has more than eight million registered domains and still counting.
With a wide variety of web hosting plans spanning from dedicated to shared servers, HostGator offers cost-efficient and feature-packed plans to suit every need of any webmaster.
Start your own personal website or register your domain with helping hand of Hostgator.com by which you can set up your Website and running within a few minutes after actually, you make the payment. You can choose a debit card, credit card or PayPal method for buying the domain and hosting from them.
Suggested Post:
How to get the cheapest web hosting?
Get hosting under $12 USD for a year with the free domain.
Hostgator's features
Easy control panel
unmetered bandwidth
One click script install
24*7 online support
Unlimited Sub Domains, FTP Accounts, and Email Accounts
45 days money back Guarantee
Email Features:
Unlimited Autoresponders, Mail Forwards, Email Aliases, 25 Mailing Lists.
Webmail Access: Horde, Squirrel Mail, Round Cube.
Prevents spam with the Spam Assassin.
Get your emails to your phone via IMAP Support.
Unlimited POP3 Email Accounts with SMTP.
Application Hosting.
Wiki Hosting – Start a Wiki websites with MediaWiki
WordPress Hosting – Host your very own WordPress blog and WordPress websites.
Drupal and Joomla Hosting – Professional CMS Solutions.
Magento Hosting – Free E-commerce platform for your own store.
Dedicated server hosting:  Dedicated server hosting is in which a server is adoring to a single organization or for a single purpose, such as a website. So If you have large business or website having high traffic, then Hostgator's dedicated server hosting is the best option for you. This will provide you better customization, configuration, and overall flexibility.
You can choose a dedicated server hosting plan according to your flexibility.
These plans are for Linux server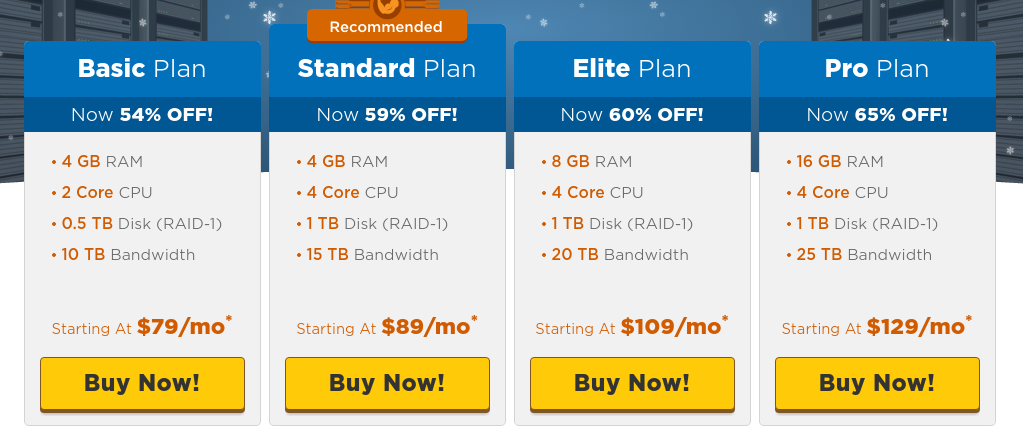 These plans are for window server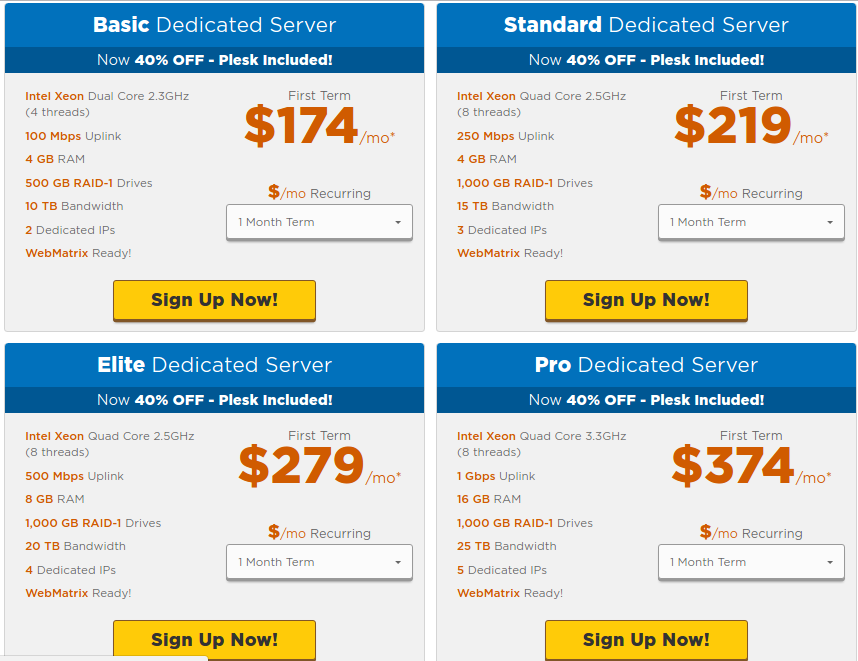 WordPress Hosting:
There are thousands of websites developing in these days. WordPress is the world's most popular website building environment. It gives you access to many free WordPress themes and WordPress plugins that help simplify the design process and allow you to add attractive features with just a few clicks. Plus, with Hostgator Managed WordPress, you get:
Seamless scalability and advanced security.
Convenient simplicity for automatically updating software and installed plugins.
So optimize your WordPress website with HostGator attractive plans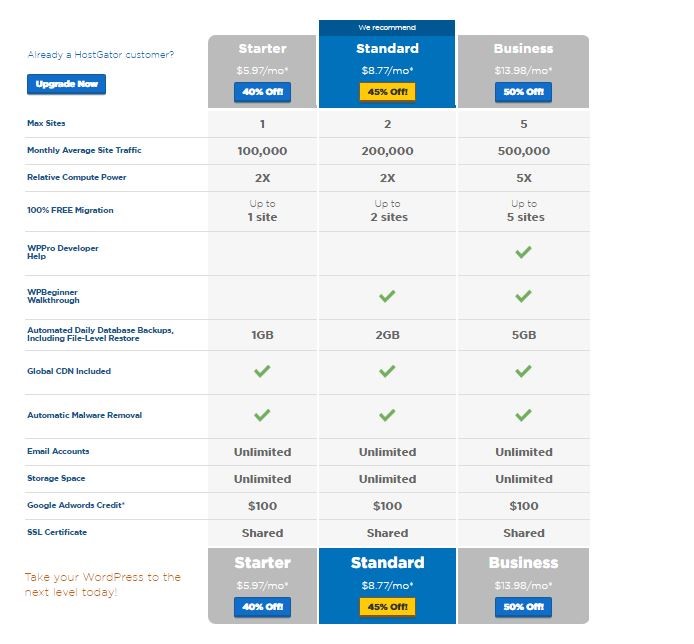 Window hosting: Windows is designed by Microsoft and comes with licensing cost. Window hosting is recommended for those who want to create a website using the ASP.NET framework or other related. Hostgator brings an attractive and costs effective plans for window hosting.
Features of  Hostgator window hosting
Manage to host account
Internet information service
Plesk control panel which helps you to manage e-mails addresses, deploying applications to the server.
VPS Hosting: Virtual Private Server is VPS hosting, and it is a virtualized server. We can say it is a combination of both shared hosting and as well as dedicated hosting. The working behind VPS hosting is similar to that of VMware and Virtual Box. In this, you can run several virtualized operating systems on one machine or PC. For example, on your desktop, Windows 7 is working, but you can also run another operating system such as Windows XP or Linux without restart your computer. In Hostgator VPS give the ability to install advanced software, and it is completely customized to your hosting plan.
Here are some plans of Hostgator for VPS hosting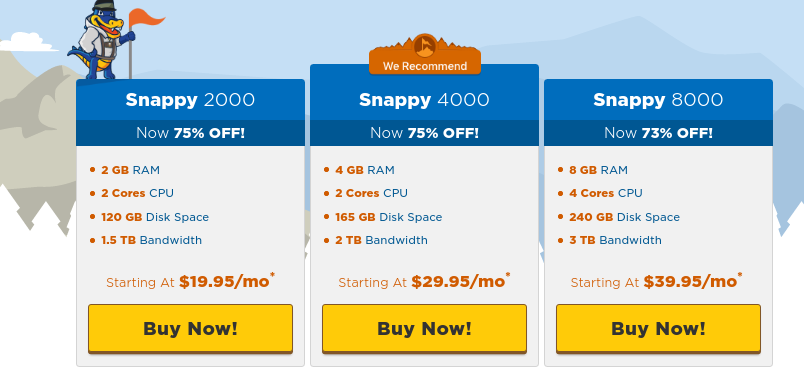 Reseller Hosting:   A reseller hosting is a hosting in which account owner of reseller hosting service is giving few portions of the disk space and bandwidth to rent that he receives. In this account, the owner is providing hosting service to another user.
It has the most reseller hosting packages; individual control panels are offered to end users. However, the end users of reseller hosting may not have the equal level of technical support that other customers receive from established web hosting firms. The reason behind this that account owners of reseller hosting services are not required to have proper knowledge of web hosting. There are most of the account holders of reseller hosting are startups who are starting up their hosting venture rather than experienced webmasters.
Coupon codes and discount
Here is the Link to the Host Gator deals with which you will be able to get the discount. You just need to follow this Hostgator link.
Suggested Post:
How to choose a perfect hosting for your Website or blog?
Hostgator Support:
Hostgator is accomplished to furnish you with top quality support and work hard to ensure you get the best.
Their support team is available 24/7 on the phone with their toll-free no (866) 964 – 2867. You can also provoke ticket via e-mail, or you can do live to chat their representative, they will help you with live chat.
To fulfill their commitments, they have deployed well-trained system administrators.
They always have heavily focussed hiring the best talent out there and preparing the team with processes and probe to troubleshoot issues and find resolutions with a minimum span of time.
[su_button url="https://linksredirect.com/?pub_id=17435CL15663&source=linkkit&url=https%3A%2F%2Fwww.hostgator.in%2F" target="blank" background="#05bf39″ size="8″ icon_color="#fb0707″ text_shadow="0px 0px 0px #000000″ rel="nofollow"]Get the Hosting From Hostgator[/su_button]