The elements of the brands are in place. The brand research is done. So, the first step in a...
Competition has become tighter and tougher in the world of social media marketing. More and more businesses have joined...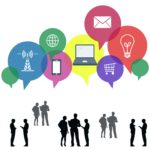 The HR department is a lifeline of an organization that attracts the best talent for the business and puts...
As a small business owner, you're probably trying to cut your costs by handling all the tasks within your...
SEO trends become outdated quickly as online audiences find interest in new types of content and algorithms change. The...
A website is the heart of a business's internet presence. It gives an organization an original identity with a...
Progress is far-fetched without investing your resources to improve yourself and everyone involved in your business. You can't expect...
For your law firm to thrive and survive long-term, you need to be visible online. Clients worldwide rely on...
Everyone wants in on the action when it comes to social media. The most active social media accounts are...
People tend to solve problems consistently. Therefore, they first make a website and then think about how to promote...