Using cloud-based phone systems has many benefits, as we have seen, and it helps businesses increase sales and generate...
SAP and S/4HANA are the key players in the global market. SAP has been a trusted service for many...
This guide is meant to help you determine the key differences between the AWS cloud solution and Microsoft's Azure,...
The 21st century witnessed a huge transformation technology-wise and now the whole world is dominated by it. cloud computing...
The article demonstrates the difference between web hosting and cloud hosting. You can check the features of both before...
Cloud data management is the recent offshoot of cloud computing technology, which revolutionized the way companies managed resource pools....
It seems as if every day brings more breaking news about a new cyberattack on a business. The rising...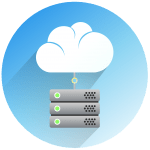 According to IT Governance, approximately 2 billion files were compromised by cybercriminals in January 2019 alone! A majority of...
It's something that is becoming more common, with migrations to the cloud now attracting businesses both large and small....
With more companies and individuals starting to come to terms with cloud computing, there is no doubt that it...