It is a great way to connect with your audience and offer them immense value. There are many types...
Are you facing problems to export Outlook contacts to Spreadsheet? In this blog, we have explained several ways to...
How do professionals manage to reach to our hearts with converting emails? Discover the 3 must-have tools you need...
Google has started its journey with a simple search browser, now it has penetrated almost every sector. Over the...
Although 53% of corporate offices rely on Outlook as their primary webmail server, most users have one common complaint...
Influencer marketing is one of the hottest marketing trends of 2019. With thousands of influencers sharing useful content for...
Email marketing is still a highly regarded means of marketing and general business communication. Organizations continue to invest heavily...
Email marketing still is regarded as one of the most effective and powerful channels for communicating directly with all...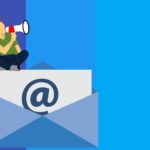 It is no lesser than a heart attack situation when you open your email account, be it Google Gmail...
Firstly, I want to reiterate the fact that Email marketing isn't dead (no matter what that tech guy says...