Mobile apps have become a go-to source for businesses worldwide to attract a wider audience, generate more leads, and...
Are you looking for a job? Due to the pandemic, finding a job is pretty challenging. Since most companies...
The majority of businesses worldwide are struggling, especially in the wake of the COVID-19 pandemic. Markets are crashing utterly...
Are you wondering how to get a remote job? and need a complete guide? then study the article till...
Gone those days when Instagram was considered a photo-sharing or social networking platform, it has emerged as one of...
In today's modern world everyone wants to earn money without going anywhere and without investment but you need to...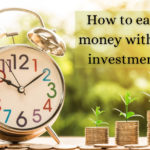 To make money by writing an ebook looks like a lucrative option to earn. It's not as easy as...
Do you know that e-commerce sales have accounted for 3.5 USD trillion sales worldwide? And, by 2022, it will...
TikTok is one of the most popular social networks in the world, and it currently takes people by storm....
Apps make life easy, but not all of the investment apps are what they purport to be. So let's...