"But, where do I start?" This is always the primary question when you begin something enormous. And that's exactly...
Are you also addicted to reading books like I am? Then you will love these sites/places to find or...
Laravel was introduced by Taylor Otwell and was designed for better web application development. It follows the MVC structure...
Access to the Internet is a basic human right—one that most of us take for granted. Unfortunately, there are...
A website is a beneficial tool for your business and among the best tools to attract more clients and...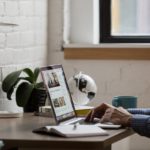 Technology is changing day by day. People are adopting more advanced technologies in recent years. There are few technologies...
A website design is a crucial element that determines the success of your brand. Your target audience is likely...
When designing the website comes into the picture, there are undoubtedly major and minor things to consider that are...
WordPress is a Content Management System that powers at least 27% of the Internet. It is estimated that 24...
Have you been looking for a way to get your client's websites done faster? A White Label Webflow Agency...