With increasing loads upon your business website, it is ideal that you should choose a SILO-optimized WordPress website. WordPress is the best choice for an SEO-optimized website. Its built-in SEO elements like permalinks, SEO-optimized images, metadata, etc., are great but not enough for SEO success.
Your website is an essential portal for your business or brand to reach your target audience. It's your website that will pull them with the ideal products/services, engage them, and convert them into customers. If you have existing customers, your website should be excellent to retain.
Your website's analytics indicate that your keyword rankings are top-notch. But why are you not getting the desired results even with relevant content thrown across the website?
First, let's get to know the most common mistakes that most websites make.
Most companies create a website with randomly organized content. Only a few top-level service pages or product pages stay organized until the entire website gets a redesign.
These websites become cluttered with a lot of information that is present in a disjointed manner. New and high-level content gets organized in blogs, whereas the primary, top-level product/service pages remain the same. Other than that, there is no keyword relevancy or subject-specific content across the website.
Search engines always look for relevant content and award top keyword rankings to websites that match user queries and search intents. However, if you want to improve search engine rankings, your website should be about relevant content structures, and the themes surrounding those keywords rather than the keyword phrases alone.
You have to implement SEO-SILO as an active part of your organic SEO strategy in such cases. It will provide a central theme to your website and create subject-specific content with keyword relevancy. It will also make the foundation for your website's higher keyword rankings.
Index
SILO Link Structure
Implementation of SILO Link Structure to a WordPress Website
Creating Internal Linking
Enforcing SILO Structure alongside your Website's navigation
How to Weave Links Naturally on your WordPress Website?
Organic SEO Strategy for Interlinking
Benefits of SILO Structure
Other on-page SEO Tactics to Keep in Mind
FAQs
SILO Link Structure for a Website
Let's understand what SILO Structure is and how it acts as the core building block for search engine optimization.
We have learned that the primary purpose of SILO is to build a robust WordPress host structure. To create a strategy to maintain the overall site theme with the intent to provide clarity to the users.
We already know that Google dishes out several algorithms to keep the company at the forefront – organizing the world's information in one place and making it accessible and valuable to the users. You can provide keyword relevancy and subject-specific content. However, if the SILO is not done correctly, the website's on-page relevance is lost, causing it to lose out on its online presence and rankings and thereby compromise on ROIs.
How do SILO Structures Boost Website SEO?
Implementation of SILO is always fail-safe and foolproof because it not only helps WordPress websites reach desired rankings but also binds the entire website structure in the form of a closely-knit theme. A SILO is nothing but a subject composition and every website should be governed by such a theme that gives you the overall impression of the website in one go.
A highly organized SILO Structure puts all the content within a website in a highly detailed and organized directory. For SEO success and easy understanding, SILOs should have a minimum of 5 content pages to establish the broader themes. Each of them should have topics and subtopics to create a directory that is easily understood by humans and machines alike!
Before that, let's get a clear idea of what SILO is, or else words like keywords, on-page, themes, directory, etc., will confuse us. Let's look at the SILO structure's framework in an easy-to-understand way and distinguish it from the usual cluttered websites that hardly get any traffic.
What is the SILO Structure?
A SILO structure is a deep-site architecture that has been highly organized in logic. This deep-site architecture creates hierarchical groupings dependent. The benefit is to organize page hierarchy in a website according to subject-specific content and topical relevance.
Some of the most significant benefits of the SILO structure are that it helps improve search engine rankings and improve the website with SILO.
So, a SILO architecture is one with logical and hierarchical rankings with multiple topics and subtopics, along with creating several categories, and subcategories under each of them. Let's look at what it looks like through some examples.
SEO SILO Structure Example
SILOs only put up relevant content structurally similar to the topically relevant content already present on the website. The more relevant content is in the eyes of Google bots and crawlers, the search engines will enjoy the same relevance.
If SILO implementation is done based on the search intent of the users and the search engine queries that come up, Google will display more relevant content to the users.
This way, the vertical SILO architecture grabs the primary idea, breaks them up into topics and subtopics, and breaks them into smaller categories until the user intent is resolved! That is why the implementation of SILO results in every user getting their queries resolved on search engines.
Vertical Architecture vs. Horizontal Architecture

In the case of flat structures, also known as ' horizontal architecture', every new content gets dumped in the blog section, which creates the rest of the website to remain as bland as possible.
On the other hand, using a ' vertical architecture' creates a high level of organization. It minimizes navigational clutter and results in an easier grouping of content.
Implementation of the SILO Link Structure to a WordPress Website
Why use a SILO Structure? There are a plethora of benefits to implementing the SILO structure in websites. Practical implementation of SILO structure in a WordPress website helps visitors reach desired information within seconds, leading to many other benefits.
Enhancing User Experience (UX)
Enhancing the UX is the first on the priority list because a cluttered, disorganized site structure without a vertical SILO results in confusion. On the other hand, the implementation of SILO makes the content flow naturally and increases navigational ease. Therefore, increasing user experience and satisfaction.
Boost organic SEO strategy
Let's get to how to set up a SILO structure using WordPress. Why do you need it? Because a website's SILO architecture has an unforgettable impact on content creation and distribution strategies. 72% of online marketers focus on content creation as an effective SEO tactic, which implies the importance of site structure in determining what's good for your website s SEO.
If your business has a niche site, then using a SILO website builder will come in handy. As it reduces the Google Sandbox time of typically 3-4 months that a new site needs to experience. SILO structure for SEO is critical to improving search engine rankings. It helps Google understand the topical relevance of one page/blog linked with another and boosts your site's semantics.
There are many upsides that only your website can get through your website SILO structure.
When you plan to improve the search engine rankings of your WordPress website. Your SILO navigation roadmap should follow the goals that you have aligned for your website.
For example, suppose you have a medium-to-small garment and attire business with a WordPress website integrated with WooCommerce. In that case, your target is to attract audiences with your latest collection of attires. You should implement SILO navigation in such a way that it boosts SEO success for your small business.
If your business doesn't have clear objectives and goals, building a website with SILO architecture will be extremely difficult. Your website's architecture and overall structure are just a mirror image of your business/website goals.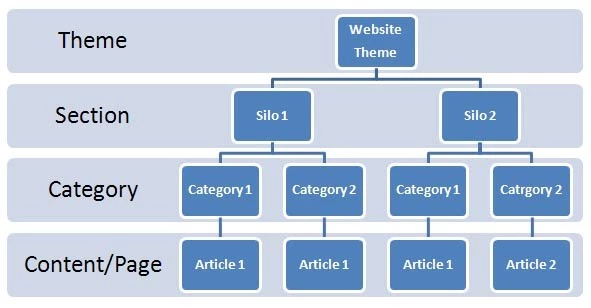 Creating Internal linking Methods with SILO
To improve your website with SILO and ease navigation for the users, you need to implement a robust interlinking strategy. Optimizing page hierarchy in a website and linking it to subject-specific content, sub-domains, and further subcategories. In that case, you can build up 80% of your links to the critical website pages with SILO implementation!
Since the primary objective of the SILO navigation is to link multiple blog posts and subject-specific content, the link juice will flow back and forth throughout the entire website. The SILO structure is critical in backlink building and creating high-authority internal links. They will connect the whole website like a detailed, uncluttered, and organized web.
You can also be sure about critical blog posts linked with each other using competent internal linking. None of them will be left behind in Google SERPs.
In simple terms – every page under a SILO structure will be interlinked, whereas every post/blog/content created will be under a relevant SILO page. Thus, it becomes easier for Google to crawl your WordPress website.
Enforcing SILO Structure with your WordPress websites' navigation
We must remember that SILOs don't give rise to relevant content or enhance the content strategy of a website. For a successful SILO link structure, use it as a marketing strategy – that typically starts with a keyword research mechanism.
Researching Keywords
Keyword relevancy, subject-specific and relevant content, instills relevance in your WordPress website. It does not occur in a well-organized SILO structure.
Therefore, to enforce it into WordPress and improve the website structure with SILO, you should identify your keywords that should be the ' foundation' or base of the content present on the website.
One of the most prominent ways to integrate the SILO structure properly in your website and carefully plan out keywords. You can take the help of the Google Keywords Planner.
Although there are several keyword research tools these days. Google Keyword Planner stands as one of the fundamental research tools with detailed analytics and metrics to identify the right set of keywords. You can use seed keywords or phrases with high competition and long-tail keywords with low competition.
There should be a fair balance between the two. You should also pay the utmost interest to user intent and competitor analysis. However, if you already have an established WordPress website, do keyword research from scratch for SEO SILO-ing. That could be kind of counter-productive. In such cases, you can integrate Google Analytics into your website and search for the content that generates maximum traffic.
Creating Internal Links
Google values information and provides access to information for the worldwide population. Its mission and vision coincide, intending to give value to the readers in a comprehensive way.
For example, suppose you have a category on your WordPress website. In that case, it will be constructive because it is hierarchical and the number of subcategories associated with it will hold the reader's attention for a long time.
Implementation of SILO Content in WordPress Pages – How to Weave in Links Naturally on your WordPress Website?
You have to take the ' Tetris way' and start building. Focus mainly on high-competition keywords frequently searched by your target audience. Without focusing on clickbait, or topical content for such keywords. Your focus should be on building evergreen content as it will stay relevant forever without needing many changes.
How to write content for SILO structure?
First, you must identify which part of your WordPress website will be ideal for posting SILO content. If you build your website with a SILO structure, put the content on pages rather than burying them inside blog archives.
SILO contents form ' pillar' pages – since they are at least 4000-7000 words in length and embellished with on-page pictures, infographics, main keywords, LSI keywords, etc., and define the meaning of a pillar. These pages hold the ' theme' of the website together. Ensure their rich quality compared to the nearest ones in the same industrial niche.
The SILO website builder effectively displays that the SILO is a page and not a post.
However, you can create multiple SILOs within your website. You can even use the same URL Slug/Name and make the same number of categories. It will help you execute category redirects to the same URL containing the SILO Slug.
You can use some tools to achieve this. You can use Thrive Themes or the Redirection Plugin for WordPress. However, ensure that the category slug and URL slug are constant.
Also, one big NO is to never de-index category pages and instead use 301 redirects to the SILO page.
Creating supportive blog posts
You need to create supportive blog posts of various lengths that come under the platform of the pillar pages. Blog posts should be highly relevant to their Parent SILO pages and linked to the respective SILO pages. Create at least 3-4 blog posts for each of the critical SILO keywords. You can also create supportive articles for the SILO pages that you have made.
Organic SEO Strategy for Interlinking
Google will determine the relevant content on your site only when properly interlinked. You need to implement Grouping – creating groups/clusters of relevant content tightly with the help of internal linking.
The next part of the question arrives – How to set up the SILO site structure using WordPress?
Supportive posts, also known as children
We have emphasized earlier that all the blog posts created should link back to the respective SILO pages. These blog posts are referred to as children's posts or child posts, and they should implement the maximum backlinking to their parent pages (SILOs).
This should preferably happen in the first paragraph or a couple to rank for top keywords and keep the link juice flowing. Using Anchor Texts in the internal links also creates significant upgrades for the ranking of SILO content.
Although ' child' supportive posts or blog posts should link between each other and also to their parent SILO pages, they should never cross-link to different SILOs. It will break the hierarchy, leak link juice, and destroy the circle of relevance.
SILO pages, aka parents
The SILO pages should link preferably to the bottom of the middle of the ' child' blog posts under their hierarchy. The main SILO page can sometimes link to other SILO (parent) pages, but they should not link to the child posts of different SILOs.
Homepage – always first but not least!
The homepage will be responsible for having the links to all the SILO pages – plugged into the sidebar or the navigation bar. The homepage has gathered the foremost authority as it has multiple blog posts linked to the SILO content that ultimately flows the link juice inside it.
Benefits of SILO Structure
Whenever you construct or update a new website, you should always take the help of SILO content theming and implementation.
The Benefits of SILO structure lie in boosting the on-page SEO of the website.
At the same time, it helps with targeting a few specific keywords and phrases to rank.
It fortifies the need to rank for a page desperately.
Mends improper site organization.
Provides value to a virgin site, or drives SEO success to a site with lots of content but little to mil organic traffic.
Other on-page SEO Tactics to Remember while Implementing WordPress SILO Structure
For a website of small to medium size, the WordPress website SILO-ing, as mentioned earlier, will do good. But if the site is massive, you need to enforce taxonomies and custom taxonomies.
Apart from these, try to follow these on-page SEO tactics.
Create a hierarchical structure based on logical analysis, and create fewer categories and subcategories.
Go to your settings tab, and create a customized permalink structure that follows the hierarchy.
Perfectly arrange your menu so that page categorization is appropriately done, minimizing bounce rate.
According to WordPress, tags and taxonomies ensure the grouping of content together, making it well-organized for the search engines to understand it clearly.
Final words
SILO is a tried-and-tested method that has been used to outrank the competitors of certain websites in the area of SEO. While it is also a tried-and-tested fact that you cannot amplify your site's SEO and rank above all your competition overnight, trying these hacks can help you move a couple of paces toward your ulterior motive.
FAQs
How many SILOs should each site have?
A simple site can start with 3-4 SILOs under which you keep inserting valuable posts in the form of blogs. After publishing at least 30-40 blog posts, and when the volume of your website content becomes large, you can create more in-depth SILOs for your website.
To which pages should we build the backlinks?
More than 80% of your website backlinks should connect to your SILO pages. However, you can follow a thumb rule with high-volume keywords targeted toward the SILO pages and low-volume ones targeted towards the blog posts. Once you backlink a SILO page correctly, the interlinking will happen with the posts present underneath that particular SILO.
Can I view the SILO structure of any website?
You can visit the site map of any website, and if they have installed SILOs in their structure, you will be able to witness it from there.