Social media is both contagious and essential business visibility! Brands and bloggers can't survive without sharing their products and...
Businesspeople, lawyers, artists, and authors may all seem like pretty different people with different ideas, focuses, and goals in...
It does not matter what niche you choose or if you focus on multiple areas since there are a...
Whether you are trying to build links and establish relationships for your brand/website or simply love writing, guest posting...
If you have a subject that you're passionate about and want to share your thoughts and ideas with the...
Pat yourself on the back if you've decided to have a proper content strategy for your blog. This simply...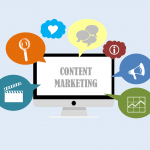 Common knowledge will have you believe that there is no tangible difference between blogging and content marketing. It seems...
Conducting a personal blog has been popular for a long time. If you have created a blog and want...
Gone are the days when companies would spend millions of dollars to obtain a billboard or publish a newspaper...
Each day we learn new things, gaining new knowledge and skills in web designing. The journey of knowledge never...