Python's simple to use coding language and access to large modules and packages have garnered a lot of developers...
It is no lesser than a heart attack situation when you open your email account, be it Google Gmail...
Are you a newbie in the world of data science? The opportunities ahead are awesome! This is a profession...
Technical writing, the words in and of themselves sound daunting when entering the world of reports. Data analysis is...
Small as well as large companies alike need a proper database management system to ensure that they are able...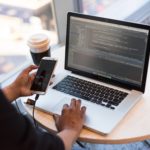 Organizations, big and small operations with a level of database security. Keeping sensitive business data is a priority any...