Instagram and B2B? There is something wrong here because B2B companies don't use Instagram as a rule. Yep, most...
Email marketing gets a boon couple of years back where a striking sales letter do the trick. We all...
It is difficult to maintain a balance between the business you provide and then reaching out to those people...
We all might be reaching people or customer through social media and email marketing but we must not forget...
Many bloggers get their email marketing wrong because they are concentrate on the wrong thing. Instead of trying to...
E-commerce market competition is growing day by day. Everyone tries their own techniques to gain traffic, more customers, and...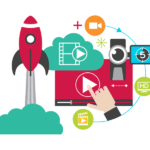 In this age of the modern world, a website for your business is critical. It acts as a vehicle...
In her recent article on Forbes, Pia Silva talks about building her business Brandup, a digital marketing agency. In...
You will obviously be in a big state of worry if your marketing campaigns are not providing you the...
Gone are the days when it was easy making a profit by just having an online website of the...