SEO is a mechanism that helps Google to determine which websites are eligible for search engine queries. Dynamic companies...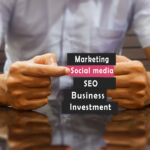 Search intention and search engine optimization go hand in hand. However, search intention is an often ignored factor in...
While website SEO is one of the main focus factors for most companies, building and maintaining a website that...
From the moment Google rolled out Panda and Penguin, the world of search engine optimization has never been the...
Are you using alternative search engines to increase your website traffic? Do you know 5% to 8% of people...