Writing is a tough task when you're a student and no one is born a great writer. If you...
WordPress is a powerful platform to start a website or a blog with all necessary tools and a very...
"Most people have the freedom to express their thoughts, some are able to write, but only a few have...

Do you drive? Great, writing a blog post is something similar to driving. One studies for the highway codes...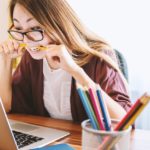 If you were asked to name 5 or 10 skills any entrepreneur needs to build, would writing be among...

Google keeps on saying that content is the king. But there are still many sites on the internet which...