Website development is no more a luxury but a necessity for businesses to go online with a visually attractive...
Maybe you are planning to hire a web design agency? Or, maybe you are just adopting new web design...
The digital age is well and truly upon us, which means various evolutions have had to take place. One...
Front-end web developer uses multiple coding and Scripting languages to execute web design projects. If you see any website,...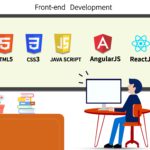 Let's dive right in. Learn the 4 effective ways to optimize your landing pages to convert more visitors to...
There is no need to mention that nowadays you'll rarely find a (small) business without an online presence. Having...
In the age of online shopping and an abundance of virtual business, your website has the power to generate...
"Update" is a daunting word for any SEO specialist. With Google making up to 3,200 algorithm changes per year,...
Every successful business needs such an essential thing as strong customer relationships. When it comes down to running a...
The process of building a website began a long time ago since the invention of the internet when you...